Contact: Kimberly Davis Phone: 423-581-3200 Email:
Joshua Dean Phone: 423-581-3200 Email:
Lincoln Forensics Team Featured Nationally
Lincoln Heights Middle School Forensics Team was recently
highlighted in the National Forensics League magazine titled
"Rostrum." The team's coaches are Kimberly Dean and
Miranda Harris. Rostrum, NFL's monthly magazine
published September - May, will be delivered to each NFL
and NJFL member schools. The magazine informs members of the latest trends in speech and debate. LHMS Forensics team was the only up and coming middle school team highlighted for the state of Tennessee.

The NFL is the largest and oldest speech and debate honor society. NFL and the NJFL teaches members to think critically and speak persuasively, preparing them to be engaged and effective global citizens. This was the first year LHMS has had a Junior Forensics team.

Morristown West High School has been a tremendous and influential factor in helping begin this program. Students who participate in Forensics are a member of an elite honor society and statistics have proven that these students have an unlimited potential to become future leaders.

Former Forensics alumni are Lyndon Johnson and Richard Nixon Vice President Hubert Humphrey, Multiple Members of Congress, Ted Turner, founder and CEO of CNN, Oprah Winfrey, television host and philanthropist, Jane Pauley, anchor and television host, Shelly Long, Emmy award-winning actress, Kelsey Grammar, Emmy award-winning actor, Brian Lamb, CSPAN founder, Supreme Court Justice Stephen Breyer, Michael Urie, star of Ugly Betty , Award winning movie star Brad Pitt, High School Musical star Zac Efron and many more.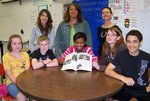 Lincoln Heights Middle School Forensics League 2012